Search
Lessons & Activities
Your central point of reference is your snow sports instructor, the person who accompanies you across the snowy terrain and gives you instruction.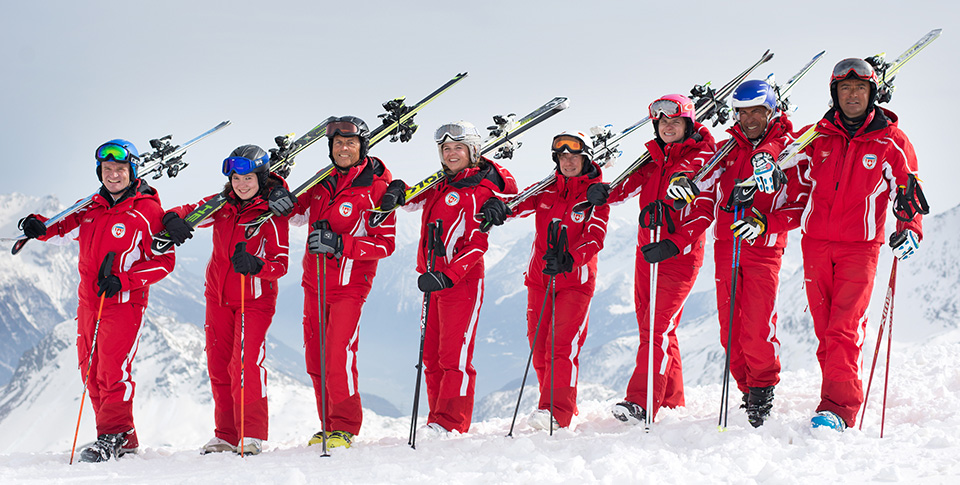 You can trust your snow sports instructor – they know the slopes, the terrain and the region like the back of their hand. Thanks to their experience on skis, they can also make a realistic assessment of the risks.
Your snow sports instructor is at home in the mountains. They know how to move around in the mountains and are familiar with the local conditions, customs and regional geography.
You become a snow sports instructor when you have successfully completed a federal diploma course. This training course not only makes challenging demands on the technical ability of the future instructor but also requires a high level of social and language skills as well as personal competence. Only someone who has these characteristics can take good care of our varied and exciting guests.
The training programme to become a "Snow Sports Instructor with Swiss Federal Diploma" is modular. It consists of modular courses and practical sessions. The structure is identical for all snow sports equipment.
From the time of starting the training programme to being awarded the Swiss Federal Diploma, a snow sports instructor must get through 137.5 training days!
The Swiss Ski Schools make use of a leading international ski and snow sports methodology.
The methodology – known as the standard technology – has been developed over a period of many years and draws on the same, practice-oriented model for all disciplines. A series of teaching manuals in eight volumes based on these methods was devised for the training of snow sports instructors in 2010, entitled "Snow Sports Switzerland".
» The eight teaching manuals can be obtained from the Swiss Snowsports Shop.
Our guests report that the methods are results-oriented and accessible. You will be able to improve your moves in the snow quickly and easily, you will dare to try something new and have more fun.
This methodology also acts as a basis for our programmes: Swiss Snow Kids' Village and Swiss Snow League.
We cultivate this methodology and constantly develop it – with the constant aim of bringing the snow sports experience even closer to you as guests so that you can benefit to an even greater degree.
Did you know that it takes three years to train as a Swiss snow sports instructor?
The training is key to being a good instructor. So the standards required are correspondingly high.
» Find out more about the training to become a snow sports instructor with Swiss Federal Diploma.
The not-quite-complete Swiss snow sports chronology